---
American College of Education is committed to providing the best university-level library resources and services for its students, faculty, and course developers. As a fast-growing online university, ACE supports all academic programs with digital books, full-text journals, and online multi-media resources through its Library. The 21st century revolution in information and telecommunications technologies is making scholarly and research information increasingly available in digital formats. This significantly improves ways that online students and faculty can identify, access, locate, and use information, anytime and anywhere.
ACE subscribes to specialized fee-based databases that allow only ACE students and faculty access to full-text books and journal articles. From the Library, students and faculty can access more than a million citations to digital books, ERIC documents, and full-text journal articles in the fields of education and healthcare with a simple login and password.
A professional librarian is available via live chat, SMS texting, e-mail, phone, Canvas inbox messaging, or Library discussion board to assist faculty and currently enrolled students with Library databases, to answer reference questions, and to provide interlibrary loan services for journal articles that are not found in the collection.  The live chat and other ways to reach the library director are on the homepage and "Ask A Librarian" page of the LibGuides.
ACE Library LibGuides
The LibGuides are a "one-stop shop" for the library. Faculty, students, and staff can access LibGuides through the main navigation bar in Canvas. In the ACE Library LibGuides, you will find all of the following (and more):
The EBSCO Discovery Service search
Contact information for the Library Director (including chat and SMS)
System status information (informing you of any Library outages)
Library policies
FAQs
Complete database and resource list
A-Z publication and database finder
"How to" guides (including PDF and video tutorials)
Library search tips
Subject guides for each department (including relevant databases, eBooks, and other pertinent resource links)
Copyright information
EBSCO Discovery Service
The EBSCO Discovery Service provides users with a means of accessing all of an institution's information resources through a single search.  The EBSCO Discovery Service search box is located on the homepage of the LibGuides.  Tutorials are available on the "How to?" page of the ACE Library LibGuides. 
The ACE Library uses OpenAthens to authenticate faculty, students, and staff to the library. Login by clicking on the lower of the two options which is for faculty and staff and then type your OpenAthens ID and password.
Course E-Reserves
Readings for each course are accessible in the E-Reserves (located in Library Resources area in each course). The readings are divided up by module. The screenshot below shows how these look within a course. Please note that all listings within the E-Reserves link to the library; thus, individuals must be logged into the library to access all course readings in the E-Reserves.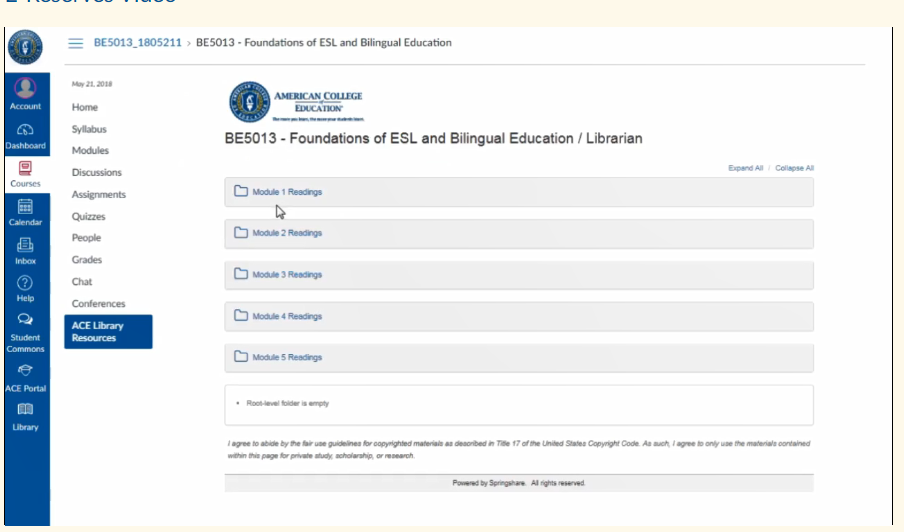 ACE follows the Association of College and Research Libraries' Information Literacy Competency Standards for Higher Education to ensure that all students can:
Determine the extent of information needed.
Access the needed information effectively and efficiently.
Evaluate information and its sources critically.
Incorporate selected information into one's knowledge base.
Use information effectively to accomplish a specific purpose.
Understand the economic, legal, and social issues surrounding the use of information, and access and use information ethically and legally.
Please see http://www.ala.org/acrl/standards/ilframework for additional information. Training in information literacy is provided to all students through an online information literacy training in the orientation, the "Ask the Librarian" help desk, and the Digital Learning Connections (DLC) initiative: a college-wide plan to infuse technology across our courses and curriculum.